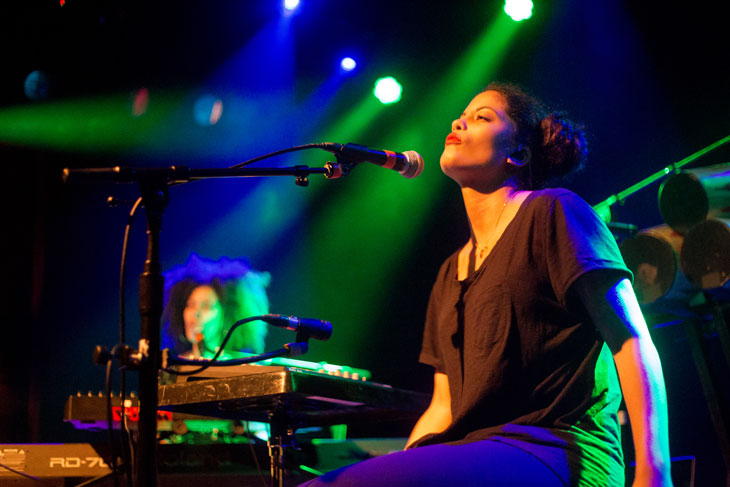 "My ghosts are not gone, they dance in the shade
Making words, making sound, making song"
The audience's feet are rooted to the ground, their eyes captivated, their ears flooded by ethereal harmonies. The scene is wrapped in a glow beneath a summer sunset as luminescent as the percussive beats coming from the stage. The sounds of the Parisian, Afro-Cuban musicians of Ibeyi are responsible for this moment of sonic absorption.
"Ibeyi" is the Yoruba term for the divine spirit that exists between twins. Twin sisters Naomi and Lisa-Kainde Diaz make up the members of Ibeyi. The sisters were raised around music, stemming from the sounds of their father Miguel "Anga" Diaz, the drummer for Buena Vista Social Club, and their mother, Maya Dagnino, a French-Venezuelan singer.
Born in Paris and visiting Havana often in their childhood, the Diaz twins have a broad range of musical influences, from the Yoruba folk songs of Nigeria, brought to Cuba by slaves in the 1700s, to the classic sounds of jazz. Their fusion of modern music with hip-hop influences and hauntingly deep folk harmonies, all layered over electronic bass-heavy percussion. Ibeyi's musical painting is speckled with the bright colors of both past traditions and current music.
Although their breadth of musical understanding is quite vast, the album Ibeyi is deceptively simple. It allows the listener to fall into a world of sound, only gradually realizing that this world consists only of vocals. As musicians today are generally heard with a backing of layers upon layers of various sounds, there is something mesmerizing about Ibeyi's vocal tonalities that makes their sound feel greater than human.
In 2006, the sisters' father passed away when they were 11, followed by their sister's death seven years later. For the Diaz sisters, these events were dramatic turning points that have greatly impacted the strength and courage behind their music. Their self-titled debut album is a tribute to those who have shaped their hearts and melodies.
Released in August 2014, eight years after their father's death, the single "River" captured the attention of Ibeyi's audience. Between the baptismal symbolism, nestled within a rich drowning motif, and their captivating eyes, the sisters' hypnotizing music has stolen many a musical heart.
"Mama Says" debuted with another emotionally intense video. It depicts the sisters and their mother grieving the loss of their father. The video is an intimate look at the sisters' lives, and how closely intertwined they are with the spirit of death.
Although Ibeyi's album is steeped in stories of death, its flavor reflects the sultry nourishment of life. Ibeyi's musical fusion of old and new, intricacy and simplicity, builds a world of juxtaposition. The living exist alongside the dead, and their purposeful embrace of the present thrives on their revival of the past.