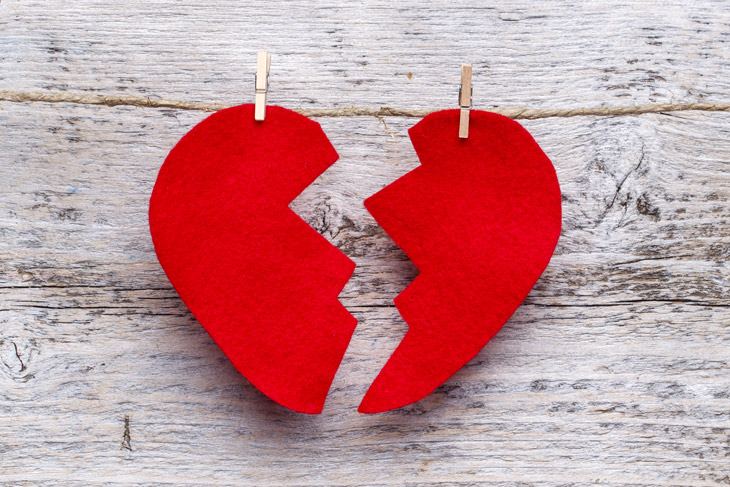 With Valentine's and cuffing season long gone, spring break…up is upon us. Whether you were part of your partner's spring cleaning, or decided to dump your significant other, you've probably been using new pop hits from John Mayer, Ed Sheeran, and Lorde to heal your broken heart. But a new season means new music, so add these 5 tracks to your playlist to thaw out your heart and get your hopes back up...or at least your middle finger.
"1 Billion Dogs" by Jay Som
This is the perfect laidback rock song to blast with the windows rolled down. Twenty-two year old Melina Duterte, aka Jay Som, is energetic enough to pump you up without getting too intense and scaring other passengers. Her guitars are fun and fuzzy, mixing surprisingly well with depressive lyrics like "Can't see straight / I'm tired, I'm alone." The lines "Kiss and tell/Kiss until/These arguments/Back and forth/I will cut them down my head is through the ceiling," paint a portrait of someone spinning out in denial, but the song still keeps you high as Duterte repeats "Going up up up up up up up. " The song is a single from her new album, Everybody Works, which Duterte wrote, recorded, and produced.
"Nothing Burns Like The Cold" feat. Vince Staples By Snoh Aalegra
Snoh Aalegra's sexy Bond girl voice is perfectly warm in frigid times. Her sultriness is amplified by tinkling pianos and dramatic violins, while Staples injects a bit of California sunshine with his verse. The song's title comes from George R.R. Martin's A Game of Thrones, captures the cold heartache of an argumentative breakup as Aalegra begs "Can we talk about us like we care about us? Can we talk about love like we care about love?"
"Nothing Wrong" by Lelie Hannon
Lelie Hannon is a beautiful and mysterious force. With only 19 SoundCloud followers, she premiered "Nothing Wrong" as her first track. In a few days it landed on SoundCloud's Folk & Singer-Songwriter charts and climbed to almost 1,300 plays in just 21 days. I have to admit, at least 100 of those listens are mine. This is the loveliest song you'll hear in a while, with a touch of loneliness. Hannam's voice is unbelievably sweet and sad as she sings about a love affair where she and her lover are "just friends again" in the morning.
"Echoes" By Miears
In this song, Houston native Michelle Miears, aka Miears, creates a perfect blend of Banks and Madonna. In the dance club hit released last month, Miears is haunted by the questions "Why did I waste my time on you?" and "Why" as they bounce around her head. "'Echoes' is a blunt, raw response to rejection," Miears told the blog The Line of Best Fit last month. "It narrates the inner dialogue of heartbreak, attempting to reconcile the heart vs. the conscience... Deep inside, you realise that you might be wasting your time, but the heart continues to take the lead, acting compulsively and hoping that something will change."
"Breathless" By Senator
In "Breathless," Senator (Howard Baker) confronts a different and much more serious kind of heartache. The single is a haunting interpretation of Baker's conversation with two sexual assault victims. In the first verse Baker singsw about an attack, and in the second the victim faces her rapist. Baker's eerie voice, plucky guitar, deep whistles, and rattlesnake-like cabasa come together well, but make "Breathless" sound more like a cowboy-ghost story than a chilling real life story. Check out our exclusive Rawckus premier of Senator's "Tiny Monsters" EP, released on March 10.